Monthly Update #4: My app was featured on The Next Web

Here is the next, not so well structured update on my progress. The reason I write these is to keep myself accountable, take some time to think things through and share everything I've learned.

More than 40% of the year is already gone, and 4 out of 10 products were shipped. And honestly, this makes me a little nervous.

I have some great product ideas for the coming months, but I'm not having fast enough progress with coding. This month, I spent only 3 hours on learning NodeJS (which plays an essential part in building my next products).

Since I need to catch up on learning to code, and I still need to ship products, I need to rethink the way I approached building products and testing my ideas.

I will rely on more no-code tools and test my ideas with low-fidelity MVPs before writing code. This allows me to learn the basics of NodeJS through courses and still will have some time to test my ideas.

Since this was the original idea while I learn to code on the go.

What happened this month?

I haven't shipped a new product but spent more time on promoting Crypto Project Name Generator.

It's really tempting to jump on building the next product and just skipping promotion. Promotion is crucial, but I enjoy making things more than promoting them. But it has to be done.

So I have an MVP promotion checklist (that will be shared with you soon) I use to promote my stuff. This kinda follows the 80/20 rule: I focus on 20% of the activities that deliver 80% of the results.

Does it actually work? I'm still testing it, and I will have more information after trying it on different products.

Using my focused promotion checklist helped me to get featured on The Next Web, with my Crypto Project Name Generator.

Here is how I did it.

1. Research:
I was looking for journalists/bloggers who've already covered funny/scam crypto projects. I eventually created a list of 16 ppl, and I asked my virtual assistant to research their email addresses.
Pro tip: stay topic focused and don't blast hundreds of journalists with your pitch.

2. Writing the pitch
My email was short, to the point. They don't have time to read a novel, so I wanted to make it as easy for them. Here is what I wrote:



How did it go?

I sent 16 emails, 10 of the recipients opened and I received one positive reply from David from The Next Web:



In my answer, I wrote down the whole story of the bullshit generator, I wanted to make his job as easy as possible, so he just needs to copy and paste my words.

After sending all the info David requested, within a few hours later the article, covering my app was featured on the front page of The Next Web.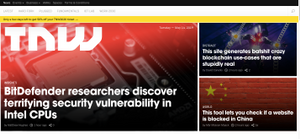 Look at the one in the upper right corner.
I was the happiest person on earth for 4-5 hours. Really, made my day. :)
Pretty much obvious takeaways for pitching journalists:
Contact only relevant journalists
Keep your pitch short
Feed them with a great story


What's next?
I'm launching my next MVP this month and planning to spend much more time (9-10 hours per month) on learning to NodeJS. Exciting times ahead!